Guild:EviL
Jump to navigation
Jump to search
The War Against [EviL]
The War Against EviL is a silver trimmed international SC/PvE Guild that's dedicated to Lowman-DungeonSC, FoWSC and UWSC.
About Us
Our primary aim is to have fast and enjoyable runs without any fails. We encourage each other to learn the hardest roles in a relaxed environment.
Although mostly European we accept people from all parts of the world so long as they are English speaking; a good attitude is more important to us than any WR you may have.
History
[EviL] Was created in February 2019 after my friend Robert (Boba Kush) got sick of me complaining about guilds and bet that I wouldn't create my own.
We started out as a JQ-PvP guild, we would organize with other guilds to make games; moving on to MQSC and eventually DungeonSC.
After being in multiple alliances and learning from experienced players we started to speed-clear areas of the game like Deep/Urgoz and UW/FoW.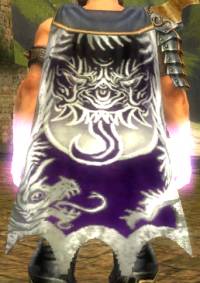 Activities
Lowman Dungeons
SoOSC
BogSC
RragarSC
KathSC
RavenSC
FmawSC
SlaverSC
Elite Areas
FoWSC
UWSC
DeepSC
UrgozSC
FFF
Tactics Unique To Our Guild
Dungeons
Elite Areas
Accomplishments
In 2019 [EviL] was the most active MQSC guild in the game, we would do consistent age 3/age 4 MQSC runs; holding Cavalon between 15-50 million with [EOD] alliance.
Join Requirements
If you want to join our Guild you need some basic speed-clear experience and a good attitude, we also encourage everyone to use Discord and a microphone.
People who are retards or toxic (energy thieves) will be booted as to not bring bad vibes to the guild. We can all take a joke here, so we would prefer to not recruit SJW's. (if you've been called one before you probably are)
Contact
Guild Leader: Aria Moonshot
Social Media
YouTube: https://www.youtube.com/user/juntaKhann
GWLegacy: https://guildwarslegacy.com/forum/thread/4837-the-war-against-evil/
Discord: https://discord.gg/YzjvqXJ

EviL Khann (talk) 08:53, 29 November 2020 (UTC)